Tram Tau – Yen Bai
Trạm Tấu district and township is nestled in the southwest corner of Yên Bái Province. It is a remote area where the people are very poor but the locale is rich with amazing scenery and adventure. The district spans some 742 km2 and is home to mostly minority people – The Black Thai and the Mong people are the most populous in these mountains.
The area really is off the beaten path and doesn't see a lot of tourism. The fact that there is only 1 paved road in and out of town has also helped it remain mostly undiscovered. If you want to see ethnic minority people amongst stunning scenery, forget about popular destinations such a Sapa where holiday-makers abound and ride on out to Tram Tau. Stare in awe at towering mountains stretching off into the distance and take in a genuine indigenous region.
Visiting Tram Tau
The best time to visit Tram Tau is during the warmer and slightly drier months of September to November or from April to March. The motorbike tracks out there can get seriously muddy during rain and also from the fog and mist in winter.
It is a place for two-wheeled exploration, jump on your motorbike and head off down small trails and see what you can find. The people have not had much interaction with westerners so can sometimes be a little shy but in general, they are extremely friendly. If you get lost they will help point you in the right direction.
Hot Springs
Tram Tau has some natural hot springs which are now home to a resort. Anyone is welcome to bathe there for a small fee however and towels and showers are also available. You can spend as long as you want inside and there is a small shop for snacks and refreshments.
The springs are divided into several pools ranging from cool to really hot. Most springs in Vietnam are only warm but here you can get a proper "hot" spring, after a while, you will find it is just too much and find yourself moving to a cooler pool.  A nice hot soak along with a cold beer is great for the bones after a solid day of motorbike riding.
Local market
In the town, there is a small local market worth visiting. Here you will see piles of fresh produce grown locally in the mountains, basic farming equipment, and clothing. Minority fabrics and outfits are also for sale and there are some tailors in the market making traditional garb. It is a great spot to buy souvenir textiles at bargain prices – the folk here seem to have set local prices and neither overcharge nor haggle like more popular destinations.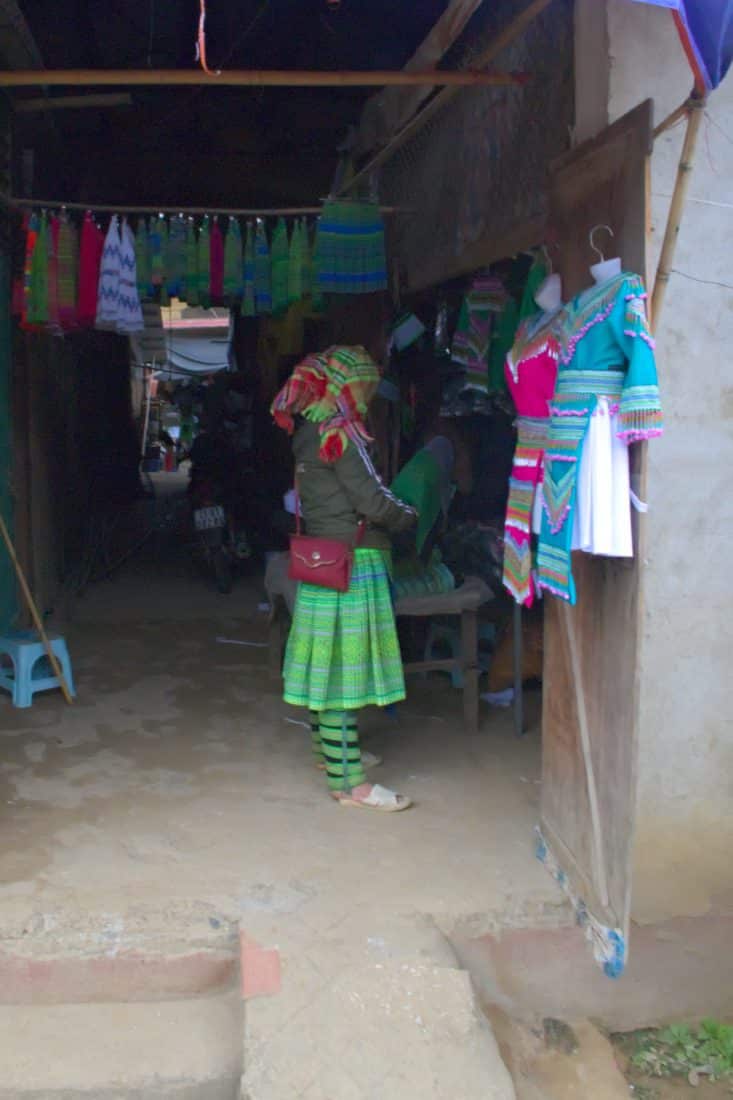 Places Nearby
The interesting, provincial city of Nghia Lo is only 30 km away. There are lots of colourful mountain people here along with better accommodation and dining options. If you are there in the evening check out Barbecue Street for some great food.
Tram Tau town is only 80km south of the big Khau Pha pass on the way to Mu Cang Chai. Well known for its beautiful rice terraces, Mu Cang Chai is another 40 km further down the road.
If you are on a dirt bike and the weather is good you have the option of heading south to Xim Vang or Ta Xua. Note that this involves challenging off-road riding.