Pa Thom cave is a big but rarely visited cave in the far northwest of Vietnam. Even if you are not into caves, the roads out to it see it provide cracking motorbike riding. Lovely scenery on the small but fairly well-paved tarmac and cement surfaces as you get closer.
Pa Thom's mouth starts at the upper reaches of a mountain and is just over two clicks from the Laos Border. It is in frontier land which is very often a no-go zone for foreigners – fortunately here there seem to be no problems for international tourists who want to take a look.
In Vietnamese, it is called Hang động Pa Thơm in reference to the commune the cave lies in and the nearby village of the same name. The minority people living there have other names including –   Thẩm Nang Lai which means Fairy cave or Fairy Girl Cave.
The mouth of the cave is around 12 metres high and 17 metres wide (local figures). It is said to be 1500m above sea level although this seemed quite overstated so we checked with Google terrain maps. They put it at around 800m above sea level which seems about right. Dien Bien Phu Airport is known to be 483 metres above sea level and it just didn't feel like a 1000 metres climb (apart from the walking trail!).
The cave is reportedly 350 metres deep which seems highly plausible. Somebody forgot the flashlight on this trip and we only got maybe 80-100 metres in with phones as a light source. If you do visit plan on bringing lamps and torches as from what we did see there are some lovely coloured rock formations along with quite a few stalagmites and stalactites.
In 2009 an old bronze drum was found in the depths of the cave and it was recognised (Pa Thom Cave) as a national monument. Apparently, on national holidays a generator is brought up to the cave and the inside is lit up for visitors which would be great to see.
Understandably the lack of visitors and very low income of the area means that such utilities cannot be provided year-round by the commune.
How To Get To Pa Thom Cave
It's a lovely ride around 30 kilometres southwest of Dien Bien Phu. From the city get straight off the QL279 as soon as you can and jump on the back roads. After cruising through flat country roads of the Dien Bien Phu valley you will hit the mountains where it becomes really good fun. Although the roads are not steep they are windy and surrounded by lush green vegetation.
It is a good idea to not go screaming into sharp corners here as there are a lot of cattle on the roads, mostly cows. The road to Pa Thom is simple enough, once you reach the village cross over the Nam Nua River on the suspension bridge and keep going up.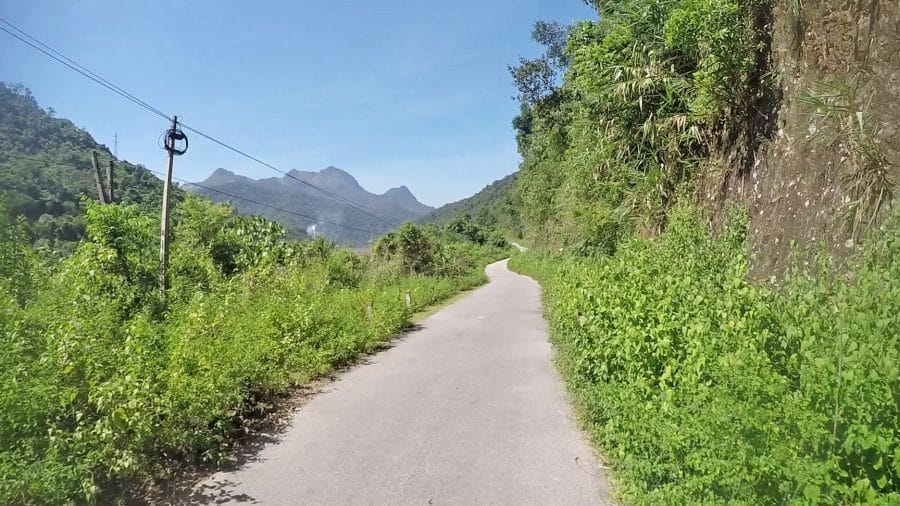 The road becomes more and more narrow the closer you get with a distinct lack of signage. You'll eventually get to a point where the track just ends completely – there is a visible walking trail to continue. It's said to be a 200m walk but our legs say 300 plus, the trail also diminishes in size until you arrive right on the caves doorstep.
Bear in mind that apart from national holidays there are no stalls selling drinks or people up at the cave. You will want to bring something to drink at least and as mentioned earlier some form of light if you want to explore the cave.
What To See Nearby Pa Thom Cave
Heading down from the cave to the river you can take a left and see a nice waterfall. Thác Mây Pa Thơm flows into the Nam Nua River; it is quite pretty as is the river flowing beside it. We couldn't find any trail to higher up on the falls and a local man we asked didn't know of any.
If you continue down the road past the falls one more kilometer the next township is pretty much the international border with Laos. This is not recommended; don't go much past the falls to avoid any troubles. While the area seems fine to travel in, actually hitting the border will not please any local officials.
Along the road in, there are some fishing areas along the river on the Dien Bien Phu City side of the hydropower plant.
There are also thermal hot springs within 20 kilometres heading southeast from Pa Thom Village at Uva Resort. The water there is said to be exceptionally hot, some 80 degrees Celsius! At the time we visited (Oct 2020) the bathhouses were functioning but the staff were having a siesta and we didn't feel like hanging around waiting for them to possibly wake up.
Security told us the entire place has just been taken over by new ownership which explained a lot of the half-constructed buildings. The word is that it will be up and running again sometime in 2021. The spot has great potential with a swimming pool and a huge adjoining fishing lake, so it is definitely worth visiting in the future.