This ride explores the fertile coastal delta, The karst mountains of Ninh Binh, the more mountainous inland of Hoa Binh and covers 8 different provinces.
There is a lot to see on this tour and the minimum distances can be expanded  to see more attractions for those who want to ride longer days. We've listed some of the available highlights between each destination.
For those who want to visit Ha Long Bay there is the option of  taking an extra day to ferry across to Cat Ba island.
DAY 1 Hanoi – Hai Phong – Minimum distance 150 km
On day 1 we leave Hanoi crossing the Red River by ferry and visit a Bat Trang Historical Pottery Village early on. After looking around and refreshments we head west towards the coast. It's not a direct route; we pass through small towns and farming areas on smaller, less busy roads. There is a couple of ferry crossing along the way as we will be crossing waterways on lesser known tracks. That evening on the coast you can dine on some delicious fresh seafood although if that's not your thing there is plenty of other food available.
DAY 2 Hai Phong – Dong Chau – Giao Thuy – Minimum distance 150 km
Day 2 sees us riding south through the Red River Delta. It's extremely fertile land and you notice all manner of produce being grown along the way.  We head to Dong Chau fishing town in Thai Binh Province.  It is situated on mud flats where you notice fishing shacks that are on stilts 10 metres in the air to avoid the high tidal waters.
Heading south again the route passes by yet more farming particularly shrimp and rice. In the afternoon there are grand views of countless Catholic churches and cathedrals. We swing round nearby Xuan Thuy Nature Reserve before stopping the evening in a quaint coastal town with incredibly friendly locals.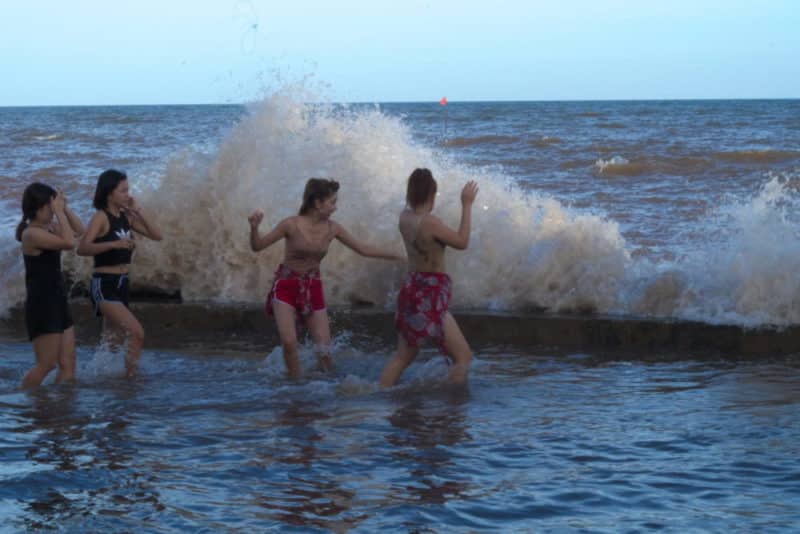 DAY 3 Giao Thuy – Phat Diem – Ninh Binh/Cuc Phuong Minimum distance 150 km
On the morning of Day 3 we head down to look at the amazing Phat Diem Cathedral that was built by hand over a hundred years ago. Continuing on we visit the famous karst peaks of Ninh Binh which is often referred to "Ha Long Bay On Land". After lunch you may go for a boat cruise through Trang An or visit some of the nearby historical attractions.
We can spend the evening in Ninh Binh or for those who want to spend more time with nature – we can ride on to Cuc Phuong National Park the oldest such reserve in Vietnam and explore there. There is a lot to do at both destinations so it's recommended you chose one or the other.
DAY 4 Ninh Binh/Cuc Phuong – Mai Chau/Mai Hich Minimum distance 150 km
Day 4 sees us head upwards into the mountains of Thanh Hoa and Hoa Binh Provinces. There is some fantastic motorcycle touring to be had as we cruise along the Ma river which flows all the way from Laos. We pass by giant water wheels and ride through the Pu Luong Nature Reserve.
That evening we can stay in Mai Hich, a lesser known White Thai minority village or at the more popular Mai Chau just a little further down the road.
DAY 5 Mai Chau/Mai Hich – Hanoi Minimum distance 150 km
On day 5 we return to Hanoi although it is by no means an uninteresting day. We must first ascend and descend the massive Thanh Khe Mountain Pass before rolling into Hoa Binh city. Here we can choose to go on a boat cruise along the Song Da River or check out the Hoa Binh Hydro Power Plant (the largest in Vietnam) and the Uncle Ho monument and lookout.
We arrive back in Hanoi late that afternoon or early evening.