Perfume Pagoda – Chùa Hương
The Perfume pagoda is not a single structure but a collection of religious sites spread over a vast area of Limestone Mountains. It is very popular amongst Vietnamese tourists and makes for an easy day trip out of Hanoi. Jump on a bike and head south, take a boat ride, do some walking as you soak up some history and culture in an easy day trip.
Getting there
Chua Huong is located in the Huong Son commune of My Duc district on the outer reaches of Hanoi.  It's right next to the southern border of Hoa Binh Province and the northern border of Ha Nam province. From downtown Hanoi, it is only a 60 kilometre motorcycle ride to the southwest. The ride takes around 3 hours although this depends on your style and the route you choose. On a bad day, you could easily burn an hour getting out of the capital's peak-hour traffic.
To reach the actual complex you must travel 3 km by boat – either motorized or by paddle depending on your preference. Boats can be taken from either the Yến Vĩ terminal or the docks further down at Thanh Sơn Temple. The waterway you travel on is called Yen Stream or Suối Yến.
Once at the landing docks you are free to roam where ever you like on foot. For those who are less inclined to walk there is a cable car up to the higher reaches which offers a nice view along the ride. Be warned though, during summer the cable car is like a sauna in the sky.
Thien Tru Pagoda – Chùa Thiên Trù
This Buddhist pagoda complex is on the left a few hundred metres before the cable car station. It was first established in 1467 and over the course of time built, added to partially destroyed and rebuilt – A common theme amongst architecture in Vietnam's war-torn history.
Nowadays it is a lovely spot to wander around in quiet times with its ponds, gardens, statues, temples, and monastic accommodation. The ancient front gate is particularly impressive.
Huong Tich Grotto – Động Hương Tích
This is the big cave at the top of the complex and the main destination of pilgrimage. To reach the entrance from the main path there is a 120 step decent, supposedly – we didn't count them but it felt like a hell of a lot more. It is well worth the effort though as the mouth of the cage is very large and quite stunning with moss growing around its edges. There are a few altars and a 1.2 metre iron bell here that is said to have been crafted way back in 1655.
Entering the cave you come across some lovely rock formations, it's damp but the path is easily located with steps cut in and not too slippery. Inside is a sacred place of worship with more shrines and altars where people make their offerings and pray. We couldn't find any information about the cave's depth but it seemed around 70 to 80 metres at the time of this visit.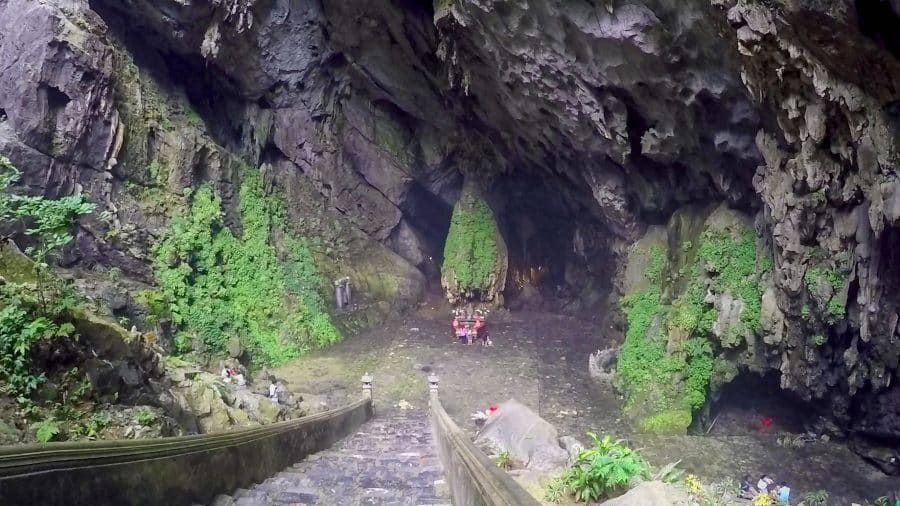 Further History of the Perfume Pagoda
In the year 1770, a Trinh lord burnt incense to pray to Buddha in Huong Tich cave and engraved 5 words at the cave's entrance – "Nam Thiên Đệ Nhất Động" meaning the most beautiful cave in the south. This act is largely regarded as the origin of the area becoming sacred, however, prior to this, the cave was already a place of worship.
Large scale construction of the complex began at the end of the 17th century. Much of the area was however later destroyed during Vietnam's conflict with the occupying French colonials in the late 1940s. In 1988 the pagoda was rebuilt. The pagoda complex itself formally became a national monument in 1962.
Perfume Pagoda Festival
The perfume pagoda festival is a pilgrimage for Buddhist worshippers in Vietnam. The festival was officially introduced way back in 1896 during the Thai Dynasty. Each year tens of thousands journey to the complex to meditate, pray, and make offerings. The festival lasts a whopping 3 months starting on the 6th of January of the lunar calendar. The busiest time period is from the first full moon of January until the 18th of Feb. At its zenith hordes of people mass to the pagoda so if you are not into crowds make sure you check the dates. On peak days the narrow pathways, caves, and monuments can become a veritable mosh pit.
There are 4 routes for pilgrims to travel with their own unique temples, shrines, and pagodas along the way. At spiritual locations, devotees burn incense and candles as well as offering flowers and vegetarian food such as fruit. Followers at the pagoda also make the interesting tribute of releasing captive animals. Animals such as fish, turtles, forest mice, and squirrels can be bought and released here in an act that brings good karma.
Our Verdict on Chua Huong
It is a very scenic spot and not a bad day out if you are in Hanoi. There is a lot of history here and it is a very important Buddhist site. The main problem is that, like most popular Vietnamese tourist destinations, it is over-commercialized.
The trip down the river is somewhat spoilt with advertising billboards on the river banks. People are also constantly trying to sell you stuff which is irritating. Most of the things for sale are just Chinese junk – there are however some interesting medicinal herbs and plants being sold. Generally speaking, if you only have limited time in Hanoi there are better options. For riverboat trips check out Trang An, if you just want to do a 1-day motorbike trip – Ba Vi Mountain and Tam Dao Mountain are among other good options.