Mai Hịch – Hòa Bình
Mai Hich is in the Mai Chau district of the naturally spectacular Hoa Binh Province. It's a White Thai minority village that's a bit more off the beaten track than the more popular Pom Coong village near Mai Chau Town.
The local people of Mai Hich mostly get by farming corn and rice paddies, gathering from the land, raising livestock and weaving. It's a simple place where you can witness an age-old way of life, relax in nature and chill amongst friendly people. Folk here live in traditional Thai stilt houses that are built from timber and bamboo and are carefully maintained with pride.
The commune itself ranges around 20 square kilometres.  It's only across the road from the Pu Luong National Park and borders Thanh Hoa Province at its south.
Mai Hich is a great stop for any motorbike tour. It is well within reach of Hanoi, Ninh Binh, Thanh Hoa, Phu Yen, Ba Vi or Son La in any one day. This makes it a good link up stop whichever direction you are riding.
Dining in Mai Hich
There aren't any real restaurants here, it's more about eating at local homestays or houses and it's fantastic.
The traditional food of the village includes sticky rice (xôi nếp') and bamboo shoots (măng) that are gathered in the local forest. Buffalo meat is served along with fish caught in the nearby Ma stream. Chickens – are everywhere, if you want one, it will be taken straight from the garden and plucked on the spot. Everything is wonderfully fresh and much healthier than anything you will eat in a nearby city.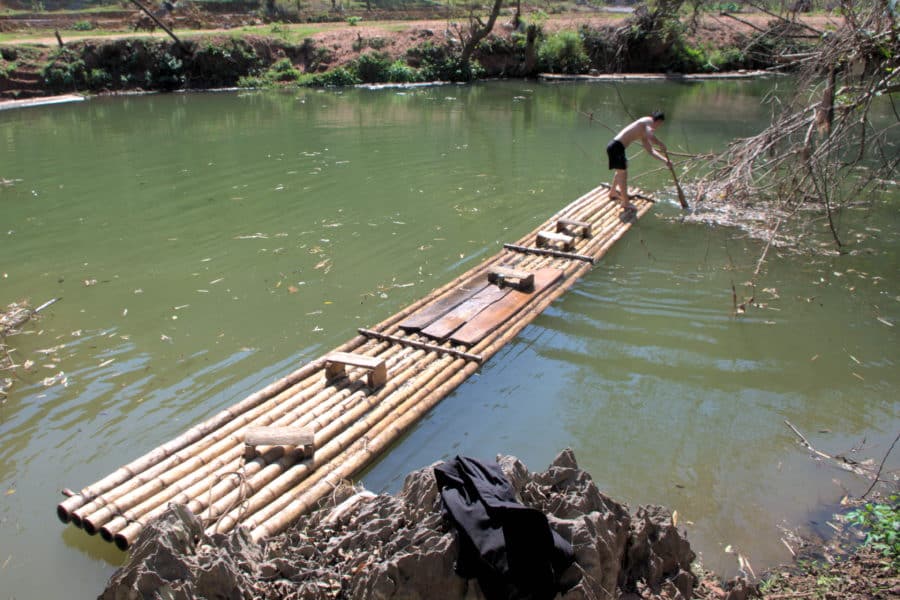 Things to do in Mai Hich
It's countryside life in Mai Hich with countryside activities. There is some cool motorbike riding to do – both off-road and on-road if you want to burn around the surrounding area.
Bamboo rafting up the Ma stream is fun and swimming there is nice in the hotter months. Fishing with the locals is also an option along with visiting a nearby cave. There are a couple of other nearby places to visit although we like to keep them a secret for our tours.
Evenings in Mai Hich often involve a musical or dance performance which are always fun. Locals usually wind down by drinking thimbles of rice wine before bed and you will always be offered a glass or two if you are interested in joining them. Ruou Can (tube rice wine) is also available if you'd like a unique drinking experience.
Afternoon Cave – (Hang Chiều)
15 kilometres away in Mai Chau town there is a side road off the main thoroughfare that leads roughly 500m to Chieu cave. You need to ascend some 1200 steps to reach the mouth of the cave although looking back as you go up; you are rewarded with vistas of the local area. It's not accessible by motorbike. It's named afternoon cave because each afternoon, sunlight pours into its mouth and illuminates its darkness. The stalactites become shiny and reflective in the natural light and create an elegant scene.
The cave is 150 metres in length and has 2 main caverns – both of which are filled with stalactites and stalagmites. There are curious rock formations throughout which locals like to associate with various animals and legends. It's absolutely worth a visit if you are up for the exercise and have any interest in spelunking.
Markets nearby
Back in Mai Chau town there are few interesting market places. The village of Pom Coong has a heap of stalls selling local textiles, trinkets and souvenirs. They seem to open whenever visitors roll through – it is all very leisurely in this part of the world.
Mai Chau town of course has its own local market. If you've never witnessed a countryside market in Vietnam then make sure you check it out. The piles of vegetables, fruits and products to serve local needs are quite a sight. Early morning is the best time to visit when the market is in full swing and the valley people are making their daily purchases.
Heading towards Son La some 40 km west of Mai Chau is the Pac Co Sunday market (Chợ Pà Cò). It's a large Muong ethnic minority market that has everything from clothes to livestock. If you are passing this way on a weekend make sure to fit it in! It generally runs from early Sunday morning, winding up before lunchtime.